Infant Care Only

This class is for anyone who is not planning on breastfeeding, perfect for same sex couples who are not breastfeeding, couples who are adopting or choosing to use bottles. The class will cover all the basics of infant care as well as how feeding effects sleep.:
What to expect after your baby is born

How he/she will appear

What routine procedures you can expect at the hospital/birthcenter

Basic infant care, including bathing, diapering, cord care, soothing techniques, sleeping and feeding

Common health concerns, signs of illness and when to call the pediatrician

First days of feeding, skin-to-skin contact

How to recognize hunger cues

Feeding tips and techniques, burping, position, etc

Bottles - cleaning, storing, heating, etc.



Class Details:
Infant Care is a 3-hour class.

When to take: Any time in your third trimester.
Class Cost: $200 for one or two people.

For Schedule and Registration : Click Here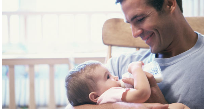 (c) 2012 City Births, LLC. All Rights Reserved