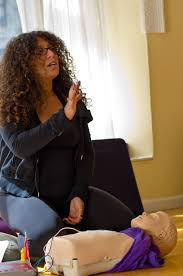 Infant CPR
This is a hands-on class that will provide you with the skills and confidence to turn a life-threatening situation into a lifesaving one. This could be the most important class you'll ever take. This class is designed specifically for parents of babies from birth to one year. You will learn:

* Infant and Child CPR
* Relief of Foreign Body Airway Obstruction ( Choking )
* Taxicab and Car Seat Guidelines
* Extensive Baby Safety Tips for use from Day 1 on.

The instructor provides 1 mannequin for every student so that you can have tons of hands-on practice. Handouts will be provided.
Instructor is a certified Common Sense CPR Instructor certified to teach CPR & First Aid through The American Heart Association and The American Red Cross. As well as a Child Passenger Safety Technician
Class Details: Infant CPR is a 2-hour class. Beverages and snacks are provided.
Class Cost: $195 for one or two people

.

This includes the pregnant mom and her partner or support person.
When to take: Any time in your third trimester.
For Schedule and Registration : Click Here
FSA/HSA: Most classes are eligible for FSA/HSA coverage.